You've probably seen several skincare fads in your time, and chances are you've tried a few of them only to be disappointed. Well, Vitamin C Serum is certainly not one of those products that you use once and push to the side. If fact, skincare experts across the world are quickly moving Vitamin C Serum up to the top of their "Must Use" list of anti-aging products, and for good reason! This potent antioxidant does wonders for your skin and actually lives up to the reviews…if you know what to look for.
Find the right Vitamin C Serum and the benefits you'll notice can range from evening the tone of your skin, hydrating your skin, shielding skin from pollution & free radicals, and of course filling in those fine lines and wrinkles. Please remember this is not age dependent. Think of this as more of an everyday shield for your skin that also helps promote younger, healthier-looking skin while protecting you from the damage you incur during your everyday life.
The Benefits Of Vitamin C Serum
The powerhouse vitamin is a potent antioxidant that helps reduce skin inflammation, irregular pigmentation, and promotes healthy collagen production, explains Joshua Zeichner, the director of cosmetic and clinical research at Mount Sinai Hospital in New York City. "Vitamin C is a key component to many skin brightening regimens, as it interferes with pigment production and keeps inflammation at bay. It may even help protect the skin from pre-cancerous changes from UV light exposure by neutralizing free radicals." Bottom line: Keep products spiked with the ingredient in your regular skin-care rotation.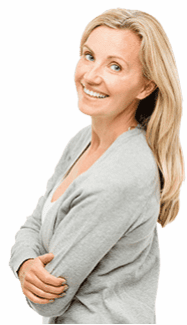 Enhances collagen production to keep skin young and firm
Prevents stretch marks
Protects skin from sun damage
Slows down the aging process
Helps prevent skin glycation or skin hardening
Hydrates & moisturizes dry skin
Fades brown spots / age spots leaving a brighter complexion
Reduces inflammation, redness & protects capillaries
Increase the healing of sun burn/sun damage
Fades hyperpigmentation & acne scars
Let's talk about a few of these benefits. First off, collagen. Collagen is the most abundant form of protein in the body and it's responsible for keeping your skin plump and young.However, by the time you reach your 20's your collagen starts to diminish. By the time you reach your 50's you have four times less collagen which is why your skin sags and has wrinkles.
Clinical studies have shown that topically applying vitamin C increases the collagen production in young skin as well as aged skin! Meaning, it's never too early or late to start using vitamin c serum!
How about the ability to protect your skin from sun damage? Vitamin C is a potent antioxidant, so applying it to your skin has been proven to protect your skin from harmful UV damage caused by the sun. It does this by neutralizing free radicals causing less age spots / sun spots along the way!
What is skin glycation & why should you care? Well, when you eat food, the body breaks down carbohydrates into sugars like glucose and fructose. It then uses these sugars to fuel everything you do. Sometimes, however—particularly as we age, and when we consume too many sugary or high-glycemic foods—these sugars react with proteins and fats in an abnormal way, producing harmful molecules called "advanced glycation endproducts (conveniently acronymned: AGEs)." This process is called "glycation."
However, a serum rich is vitamin C (20% vitamin c is recommended) is able to protect skin collagen by neutralizing glycation before it can become an issue & prevent accelerated aging. Apples are one of the best visual examples of oxidation. You might have heard that it's good to add lemon juice to apple slices.

What do you think would happen if you only applied the lemon juice to some apples and left them for 20 minutes?
You would see that there is a big difference between the treated and untreated apple slices as the untreated ones will have begun to brown. This brown coloring is caused by oxidative damage. Lemon juice is, of course, a rich source of vitamin C.
This example shows how topically applying vitamin C can prevent oxidative damage and reduce the visible appearance of skin damage.
How Do You Know Which Serum To Use?
Well, you can listen to dermatologist Jennifer Linder, M.D., founder of Linder Dermatology and Skin Cancer Center. She says, "When selecting a vitamin C serum, patients should look for vitamin C serum with vitamin C in higher percentages, such as 15 or 20 percent," Dr. Linder says. And to optimize the benefits of the vitamin C, the product should also be formulated with vitamin E."
You must make sure your vitamin c serum contains hyaluronic acid. HA is a highly effective moisturizing agent and a major component of collagen in your skin. Hyaluronic acid reduces moisture loss and works to repair tired and dehydrated skin.
15-20% Vitamin C
Contains Vitamin E
Contains Hyaluronic Acid
Aloe for better moisturization
Jojoba oil
*Reader's Submitted Tip: Many users of vitamin c serum complained that they would use the 1 oz size far too quickly, so a lot of our readers suggest finding a product that contains all of the above ingredients and comes in a 2 oz size. This way you can use it where you need and it will last at least one month!
Our Top 5 Vitamin C Face Serums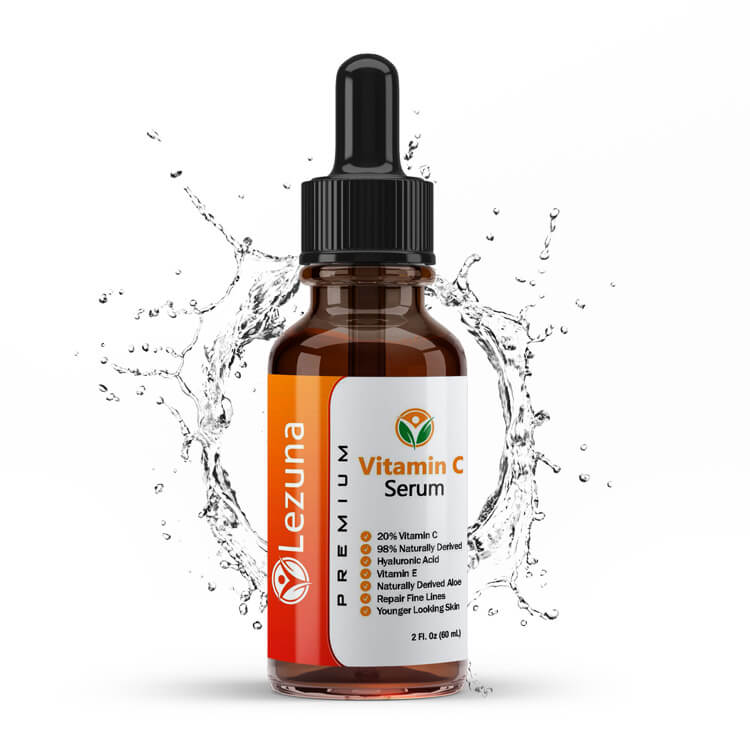 Lezuna Premium Vitamin Face C Serum by Me First Living is our #1 face vitamin c face serum for these very important reasons:
Has all recommended & vital ingredients
Has 20% Vitamin C
Is a naturally derived serum
Comes in the largest size we've seen(2 oz container)
Safe for all skin types
Helps protect from sun damage & more
100% money back guarantee
For the best deal, we recommend buying directly from the manufacturer, which we'll link below. However, due to the popularity of this product, they are also a featured seller on Walmart.Com, Amazon.Com & eBay.Com as well.
★Limited Time Discount★ Lezuna is offering limited time discounts for their readers! Take advantage of discounts up to 30%, as low as $17.46 per bottle!
You can also call to order by phone, 24/7: (844) 344-6488
---
2. Mad Hippie Vitamin C Serum 1 oz

Vitamin C Serum by Mad Hippie is our runner up and while it does have some high points, it is more expensive and only comes in a 1 oz bottle meaning you'll go through it much quicker. However, it is natural, vegan friendly, GMO-Free and cruelty free.
---
3. Complete Skin Solutions 1 oz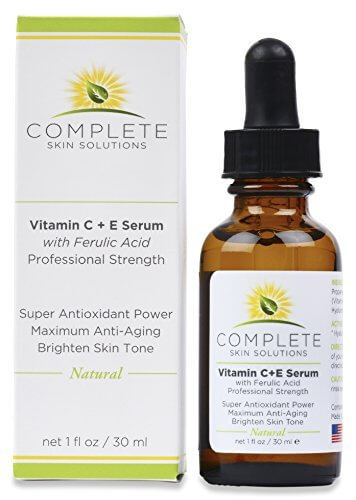 Similar to Mad Hippie, this vitamin c face serum comes in a smaller one ounce bottle but it is much more expensive. It does contain the necessary ingredients we mentioned in this article which is a plus. However, the higher cost as well as the smaller bottle are points that bring down the rating.
---
4.  Auriga Vitamin C Serum .5 Oz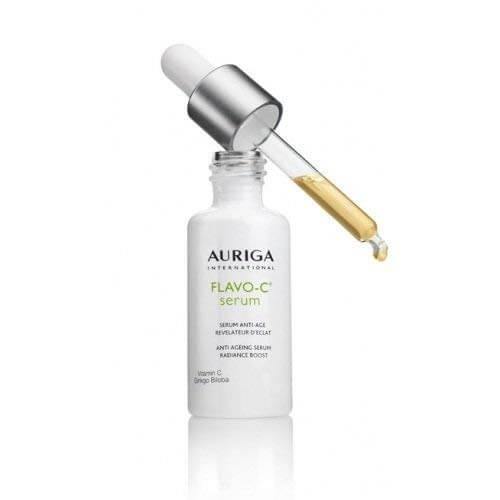 Auriga Vitamin C Serum comes in a much smaller bottle, .5 OZ, but it does have good ingredients! However, the downside is it's price. At $28.50 for .5 OZ, we feel our top choice is a much better deal.
---
5. Complete Skin Solutions Vitamin C Serum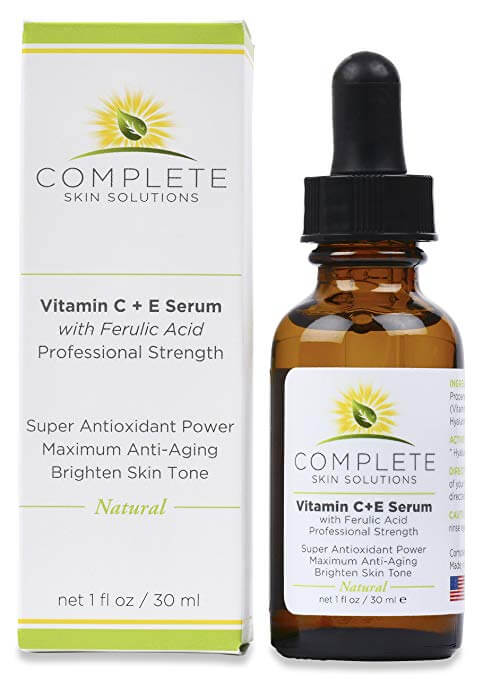 This vitamin C serum, like most others, comes in a smaller 1 oz bottle. It is priced just below $30 and contains most of the recommended ingredients.